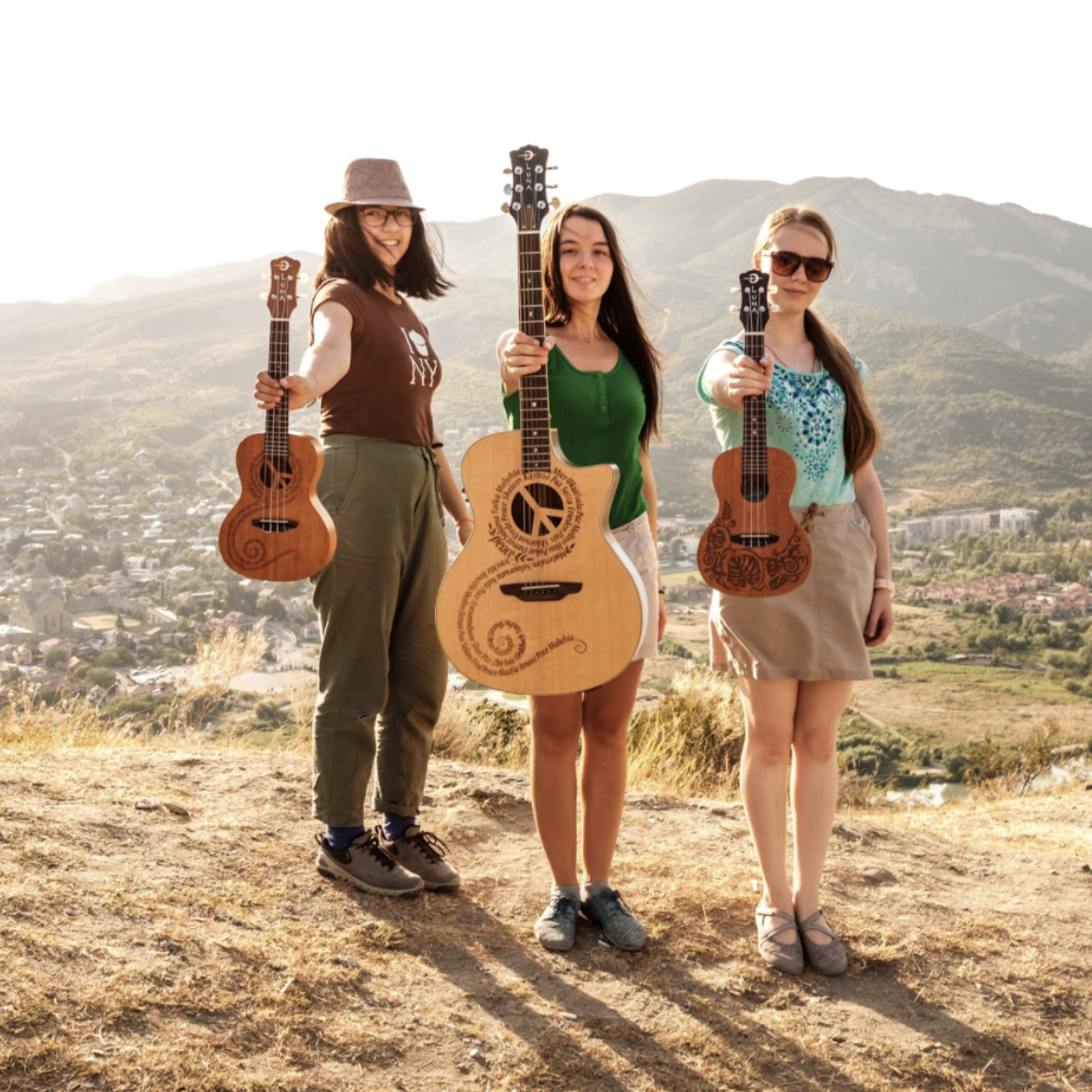 You can initiate playing and/or singing with your immediate tribe of friends, housemates, or family whether you actually live together or are connecting online. Given the current Covid-19 pandemic, there are measures you can take as a precaution when playing with close friends and family. If you're lucky, you've got players on cajon, guitar, bass, uke, banjolele—the whole Luna family—right in your house. But even if you're the only one in your group who is a musician, you can make some magic happen.
ONLINE
If you're leading online via the most common platforms, like Zoom or Skype (Jamkazam is another story and needs a separate article) try these tips:
Keep it short. Choose one or two songs per session.

Go for familiar and simple. Choose songs that everybody knows with a simple chord progression. Lean on Me in the key of C by Bill Withers and Let it Be in C by the Beatles are great first choices. If you want to teach a new song, make sure it's simple. Songs with a lot of repetition help everybody to succeed.

Send lead sheets ahead of time. Songs with chords and lyrics that fit on one page are easiest. Emailing the lead sheets ahead of time, so your band mates can pull them up on their phones or tablets or print them out.

Focus on the meaning of the song, not on how well you all play it. If it's a joyful song, then enjoy it. If you're singing the blues, wail with abandon.

Once you're ready to sing/play, ask everybody to turn off their microphones. If you've tried to sing/play in real time online, you'll know there's a slight delay that you may not notice in conversation but that becomes glaringly apparent with music. You won't be able to all hear one another, but each person will be able to sing/play along with you.
IN PERSON (Safely) 
In addition to following the recommended safety precautions by the CDC, keeping a 6 foot distance from one-another and wearing a face covering is certainly important. If you're leading whoever happens to live with you—whether it's family or friends—follow tips 1-4 above and then add these:
In the perfect world, it is ideal to share your instruments with others, even if they don't play! However, given the current pandemic, you'll want to make sure the instrument is fully sanitized before passing your instrument along. If you have two ukes, give one to a housemate or family member and, if they don't know how to play it, encourage them to use the uke as a percussion instrument by strumming along with the right while holding the neck with the left to dampening the strings. The strings will make a percussive sound but won't sound any specific tones.

Encourage a simple body percussion for those who don't play an instrument, such as snaps or foot taps or chest thumps.

Enable eye contact by going paperless. If the lyrics of the song are well-known, go paperless. Go over the chord progression ahead of time and then call out the chords as you all play.

If your band is live at home, try an after-dinner ritual. Rather than trying to convene everybody at a specific time, try agreeing in advance to after-dinner sessions. It's easier to get started when everybody is already around the table together.
A great band leader can make sure that everybody in your group can join in. All ages. All experience levels. And keeping safety in mind at all times. Sing your hearts out and you can't go wrong.