Just like the beautiful vines growing among some of the most notable vineyards, strumming never felt so perfect with Luna Guitars' new Vineyard Series ukuleles. Available in concert and tenor sizes, the Vineyard Series represents a unique new level of high-end Luna ukuleles, complete with eye-catching craftsmanship that includes a bevel, slotted headstock, and solid koa top with intricate designs. Vineyard Series ukuleles feature Fishman's Kula Ukulele Onboard Preamp System with onboard tuner, so players can be ready to dial in their sound quickly, plug into an amp, and hit the stage. Whether the player has a solid musical foundation or is simply looking to make an artistic impression, Luna's Vineyard Series ukuleles are designed for creative growth.
Every vine has an origin and the potential to grow into something bigger than anticipated. Musicians, like vines, should be nurtured and allowed to grow, with instruments that "speak" to strength, determination, and the power to endure. Symbolically, each Vineyard Series ukulele offers a pearl vine inlay design on the rosette and along the 18-fret rosewood fingerboard, presenting the evolving thirst for growth and perseverance.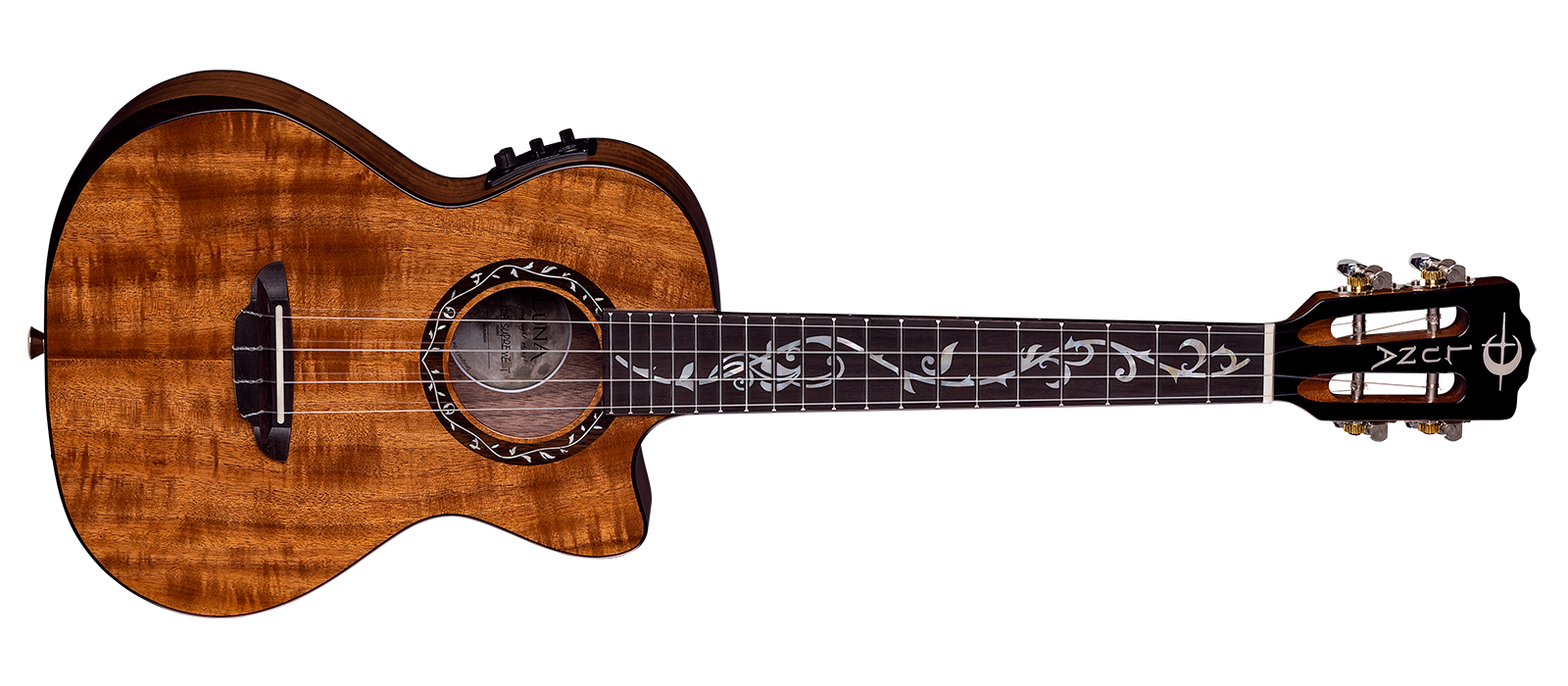 Designed with musicians in mind, the Uke Vineyard Koa Bevel Tenor has a 17-inch scale length and traditional tenor cutaway body, while the Uke Vineyard Koa Bevel Concert offers a 15-inch scale length and traditional concert cutaway body. On both models, the solid koa A-grade flat top, along with koa back and sides, offer a warm tone and an ergonomic bevel that provides rest for the picking arm. Single-ply rosewood binding adds a finishing touch of sophistication, while Gloss Natural finish allows the tonewoods to shine both aesthetically and sonically.
Both ukuleles in the Vineyard Series are designed with a comfortable C-shape mahogany neck and set-neck construction that helps transfer the resonance between neck and body more freely. The 1 3/8-inch nut width offers ample string spacing for comfortable chord formation and fingerpicking. The genuine bone nut and rosewood bridge further enhance the sonic quality and sustain. Each nuance is relayed by the Fishman Kula Onboard Preamp System designed specifically for the size, shape, and sound of the ukulele, and complete with 3-band EQ (bass, middle, and treble) and a built-in digital chromatic tuner. For an extra elegant touch, the open gear tuners rest on the slotted headstock with chrome tuning pegs that help ensure tuning success and reliable performance from the specialized Aquila Super Nylgut ukulele strings.
Rooted to the foundation of the player's skill set and ready to ignite musical passion when the moment is right, Luna's Vineyard Series ukuleles are the perfect addition to any acoustic repertoire.
The Uke Vineyard Koa Bevel Tenor is available at MSRP $499, while the Uke Vineyard Koa Bevel Concert is available at MSRP $449. An included padded gig bag will help protect these fine instruments for years to come.