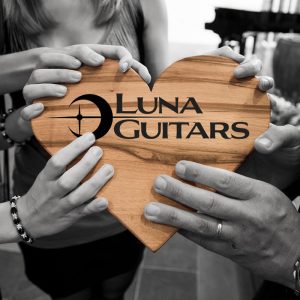 To the Luna Tribe,
This year we will commemorate 15 years of Luna Guitars and one thing we are most proud of is the strength and dedication of the Luna Tribe. It is our great honor to reflect on the brand we have grown to love and adore so much throughout the years.
Beginning in 2005, the early days of Luna brought a revolutionary change in the way acoustic guitars were built. Acoustics were built with the arts in mind, showcasing Henna designs, featuring works-of-art and a strong brand story. Most importantly each guitar was built keeping the female guitar player in mind. Luna's wonderful founder made it clear that Luna welcomes female musicians with open arms!
When Luna entered the ukulele market, we didn't just briskly walk through the front door. We wanted to make a unique mark, by pioneering the use of laser-etching Tattoo designs, High Tide inlays made of abalone, with the focus on promoting and encouraging uniqueness. It was this type of creative thinking that landed many of our ukuleles in recording studios, stages and among many trusted retailers across the world.
While the product was appealing and marketing was taking-off, the most important part of Luna was also quickly growing. The Luna Tribe embodies the definition of community and the concept of people helping people. Anyone that owns a Luna instrument is part of the tribe and the Luna community. As we continue to grow as a brand, we make sure to communicate with the #LunaTribe. Our work with charities such as "Musician's on Call" will always continue. Whether the project is to get more ukuleles in schools or send instruments to the fine men and women serving our country overseas, the tribe always stands for something bigger.
Today, Luna not only offers ukes, guitars and bluegrass instruments but also percussion. Luna Percussion was introduced in 2018 and the response to our Luna Cajons has been wonderful since. In typical Luna fashion, there is a meaning behind our instruments and that same vision is shared to this day.
As we embark on 2020, the foundation of Luna remains creative, affordable and having something to offer for everybody. From Vista Ukuleles to the Vintage Jumbo, the product line is truly special. In the form of peace and prosperity, all of us at Luna wish everyone the best in 2020. Onward and upward!
Yours truly,
Adam Gomes, Director of Marketing & Artist Relations
Luna Guitars